Main content start
Chairman's Message
Chairman's Message

Dear Fellow Alumni,
As I read through the heartwarming articles on the farewell of Ms Lucilla Leung, our newly retired primary school headmistress, my heart is filled with respect and gratitude.
Thanks to many insightful and caring principals and teachers throughout the years, our alma mater has nurtured generations and generations of kind and humble alumni from all walks of life. Little did I realise that St. Paul's Co-educational College has been a cradle of pastors, reverends, theological seminary professors and God's servants in many capacities until a recent gathering among Christian friends. Many have always been praying for our school, our students, our alumni and our community. It is reassuring to know that we are always in good hands, or should we say, in God's hands.
It's the back-to-school season again. It's also my "quiz time". No, I am not asking how many activities the Alumni Association will be hosting this year. You will find all you need to know in this newsletter. But, can anyone recite or sing the fourth verse of our school hymn by heart? Do not panic, the answer is right here, with a video QR code too.
"Though we change, may we continue to bear our Lord's name and journey with it to the end."
We change, but Thou art still the same;
The same good Master, Teacher, Friend.
We change, but Lord, we bear Thy name,
To journey with it to the end;
And so we pray Thy spirit may
Be present in our school always.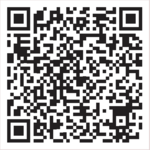 SPCC School Hymn
Andrew Luk (1978)
Chairman
SPCC Alumni Association