Main content start
SPCC Alumni Choir Carol Service 2018
Alumni Choir Activities
SPCC Alumni Choir Carol Service 2018
St. John's Cathedral, Garden Road, Central, Hong Kong
7pm - Tea Reception, Li Hall 7:30pm - Service, Cathedral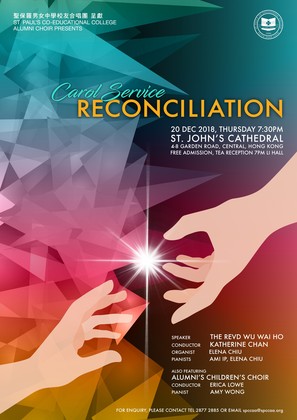 Dear Alumni,
Christmas is coming! We would like to invite you and your family to join us at one of our favorite annual events, the Carol Service, at St. John's Cathedral on 20 December 2018 (Thursday).
This year, we are honoured to have the Revd William Wu Wai Ho of St. John's Cathedral, a fellow SPCC alumnus, to conduct the homily and share his message on the theme "Reconciliation". In addition to the joyful Christmas carols for all to sing along, the SPCC Alumni Choir (led by Ms Katherine Chan) and SPCC Alumni's Children's Choir (led by Ms Erica Lowe) will present sacred songs and share a blissful evening with you.
Details are set out below and on the attached poster:
Date: 20 December 2018 (Thursday)
Time: 7pm - Tea Reception, Li Hall
7:30pm - Service, Cathedral
Venue: St. John's Cathedral, Garden Road, Central, Hong Kong
(Free Admission)
If you have any queries, please feel free to contact Ms Carroll Yeung of the Alumni Association Office at +852 28772885 or by email at spccaa@spccaa.org.
We look forward to celebrating Christmas with you!
BACK