Main content start
Annual Dinner 2023 - The Great Gatsby
Upcoming Event
Annual Dinner 2023 - The Great Gatsby
Alumni Event
Grand Ballroom, The Conrad Hong Kong
Cocktail at 6 p.m. / Dinner at 7 p.m.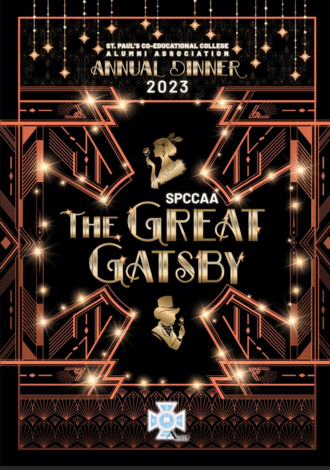 The Jazz Age was an era marked by glamour and decadence, which gave birth to the unflappable flapper girls, art deco and perhaps one of the greatest literary works, The Great Gatsby. The most legendary parties are thrown by J. Gatsby to win the love of his muse, Daisy. After a 3-year hiatus, this year, SPCCAA cordially invites you to travel back to the "roaring twenties" for a night at our dazzling soiree. Dress to impress in 1920's style to win the "best dressed" table award and join us for a swingin' evening of thrilling surprises and sensational prizes. With corkage waived for the night, come and join us to pop your champagne! "The honor would be entirely mine, if you can attend my little party." - J. Gatsby
Date: Sunday, 29th October, 2023
Time: Cocktail at 6 p.m. / Dinner at 7 p.m.
Venue: Grand Ballroom, The Conrad Hong Kong, Pacific Place, 88 Queensway, Hong Kong
Ticket: HK$1,388 each or Enjoy Early-Bird offer HK$1,288 (booking form and payment must be received on or before 30th June 2023)
Seats are limited so please complete and return the booking form together with a cheque addressed to "SPCCAA Events Limited" for the amount payable as soon as possible and before 27th September 2023 to avoid disappointment.
Bookings are accepted only upon full payment. Payments made will not be refunded. We welcome sponsorships in cash or gift format. Individual sponsors will be acknowledged by their sponsorship tiers listed below. Please contact Ms Carroll Yeung of the Alumni Association office at 28772885 for details. Regrettably, children under 12 will not be admitted.
BACK