Main content start
SPCC Alumni Choir "A Springtime Potpourri" Concert 2019
Past Event
SPCC Alumni Choir "A Springtime Potpourri" Concert 2019
Alumni Choir Event
Hong Kong Jockey Club Amphitheatre, Hong Kong Academy for Performing Arts, Wan Chai, Hong Kong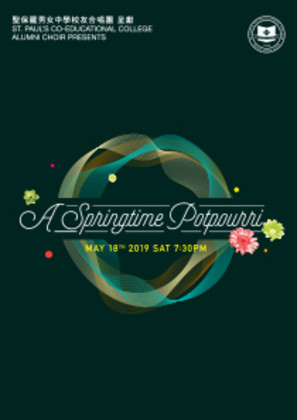 Dear Alumni,
The SPCC Alumni Choir is excited to present our upcoming concert – "A Springtime Potpourri"
Date: 18 May 2019 (Saturday)
Time: 7:30pm
Venue: Hong Kong Jockey Club Amphitheatre, The Hong Kong Academy for Performing Arts
The concert will have an even split of choral and orchestral cantatas by English and American composers. We are honoured to have alumni Mr. Sanders Lau and Mr. Daniel Chan to be our conductors. Mr. Sanders Lau will lead the Alumni Choir. The Choir will perform The Making of the Drum by Bob Chilcott. This exuberant and rhythmic choral cantata in five sections uses poems which are a celebration of how the living spirit of the drum is brought alive. The Choir will also perform a collection of recent movie favourites from Skyfall in the James Bond series, La La Land, The Greatest Showman and Coco.
Under the baton of Mr. Daniel Chan, the Alumni Orchestra will perform Suite for Strings by John Rutter and a collection of works by George Gershwin.
We are also grateful to have SPCC String Orchestra with us on stage that evening.
Tickets to the concert (@$500/$220/$80) will be available through HK Ticketing (http://www.hkticketing.com or 31288288) or from any HK Ticketing's box offices from 15 April 2019 (Monday). We look forward to seeing you!
Yours sincerely,
SPCCAC Committee
BACK