Main content start
SPCC Alumni Choir Carol Service 2022
Past Event
SPCC Alumni Choir Carol Service 2022
Alumni Choir Event
St John's Cathedral, Garden Road, Central, Hong Kong
7:30pm - Service, Cathedral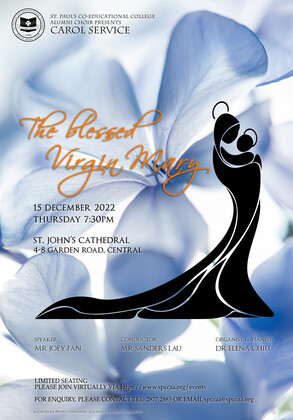 Dear Alumni,
Christmas is coming! The Alumni Choir would like to invite you and your family to join us at one of our favourite annual events, the Carol Service, at St John's Cathedral on 15 December 2022 (Thursday). This year, the Carol Service will also be broadcast live on the web so that more of you can join us virtually.
We are very honoured to have Mr. Joey Fan, our School Council Member, to share a message on the theme "The Blessed Virgin Mary". The Very Reverend Kwok-keung Chan, Dean of St John's Cathedral, will lead us in the prayers. The Alumni Choir, led by Mr. Sanders Lau, will present hymns and dedications, accompanied by organist and pianist Dr. Elena Chiu.
Details are set out below and on the attached flyer:
Date: 15 December 2022 (Thursday)
Time: 7:30pm - Service, Cathedral
Venue: St John's Cathedral, Garden Road, Central, Hong Kong
(Free Admission)
Virtual broadcast:
We will also live-stream the Carol Service and welcome you to join us virtually. The following is the live-streaming link: https://youtu.be/MqZWuiHKa94
Health measures:
Wearing a mask and using the LeaveHomeSafe app upon entry is required.
If you have any queries, please feel free to contact Ms Carroll Yeung of the Alumni Association Office at +852 28772885 or by email at spccaa@spccaa.org.
We look forward to celebrating Christmas with you.
Yours sincerely,
Paul So
Chairman, St. Paul's Co-educational College Alumni Choir
BACK