Main content start
Haydn's Maria Theresa Mass Concert - Nov 2017
Alumni Choir Activities
Haydn's Maria Theresa Mass Concert - Nov 2017
Hong Kong Academy for Performing Arts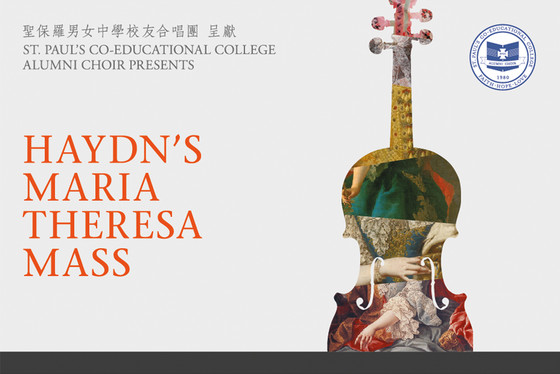 The SPCC Alumni Choir is excited to present our second concert of the year – "Haydn's Maria Theresa Mass" – on 11th November, 2017 (Saturday), at 8:00pm, at Hong Kong Jockey Club Amphitheatre of the Hong Kong Academy for Performing Arts.
We are honoured to have alumni Mr. Sanders Lau and Mr. Apollo Wong to be our conductors. Mr. Sanders Lau will conduct the centerpiece of the evening, Maria Theresa Mass (Theresienmesse) in B-flat Major, by Joseph Haydn, an exceptional piece in which chorus, orchestra, and vocal soloists are beautifully balanced. Accompanied by SPCC Alumni Orchestra, we will be joined by four compelling soloists: Ms. Alison Lau (soprano), Ms. Winnie Tam (alto), Mr. Jasper Sung (tenor) and Mr. Apollo Wong (bass). Another intriguing part of the programme takes place as SPCCAC invites the audience to experience "music meets literature". Under the baton of Mr. Apollo Wong, we will perform songs with beautiful classic text by William Shakespeare and choral music by contemporary composers. The audience will enjoy a variety of tunes as John Rutter's version of Blow, Blow Thou Winter Wind is contrasted with William Mathias', while Nils Lindberg's Shall I Compare Thee to a Summer's Day meets with James Q Mulholland's. The SPCC Treble Choir will also take the stage as guest performer, adding a youthful spin to the evening.
Tickets to the concert (@$500/$220/$180/$80) will be available through HK Ticketing (
or 3128 8288) or from any HK Ticketing's box offices from 3rd October, 2017 (Tuesday). We look forward to seeing you!
Similar to previous years, we would be grateful for your support through sponsorship, or advertisements / compliment notes in the concert programme book. Please refer to the attached leaflet, or contact Carroll Yeung at SPCCAA (spccaa@spccaa.org, 2877 2885) for details. We would greatly appreciate your contribution by 20th October, 2017 (Friday). Thank you very much in advance for your support!
BACK