Main content start
The Magnificat in Spring Concert - May 2017
Alumni Choir Activities
The Magnificat in Spring Concert - May 2017
Hong Kong Academy for Performing Arts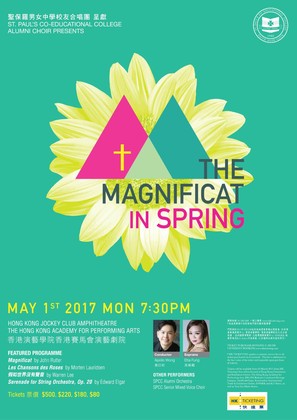 The SPCC Alumni Choir is excited to present "The Magnificat in Spring" – to be held on 1st May, 2017 (Monday), at 7:30pm, at Hong Kong Jockey Club Amphitheatre of the Hong Kong Academy for Performing Arts. Other performers include SPCC Alumni Orchestra and SPCC Senior Mixed Voice Choir ("SMVC").
We are honoured to have alumnus Mr. Apollo Wong to be our conductor. He will lead us through a selection of contemporary pieces. John Rutter's Magnificat, to be accompanied by the SPCC Alumni Orchestra, will be the highlight of the evening, featuring soprano solo performance by Ms. Etta Fung. Another featured highlight performed by the SMVC includes "假如世界沒有聲音" composed by alumnus Mr. Warren Lee. Also on the programme is Morten Lauridsen's Les Chansons des Roses, while the Alumni Orchestra will be performing Edward Elgar's Serenade for String Orchestra, Op.20.
Tickets to the concert (@$500/$220/$180/$80) will be available through HK Ticketing (http://www.hkticketing.com or 3128 8288) or from any HK Ticketing's box offices from 25th March, 2017 (Saturday). We look forward to seeing you!
Similar to previous years, we would be grateful for your support through sponsorship, or advertisements or compliment notes in the concert programme book. Please refer to the attached leaflet, or contact Carroll Yeung at SPCCAA (spccaa@spccaa.org, 2877 2885) for details. We would greatly appreciate your contribution by 7th April, 2017 (Friday). Thank you very much in advance for your support!
BACK