Main content start
Carol Service at St. John's Cathedral 2016
Alumni Choir Activities
Carol Service at St. John's Cathedral 2016
7:00 pm Tea Party at Li Hall
7:30 pm Service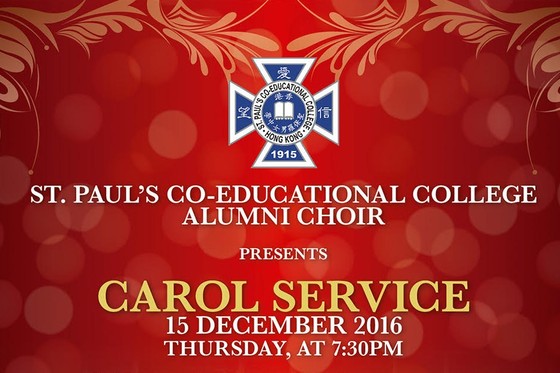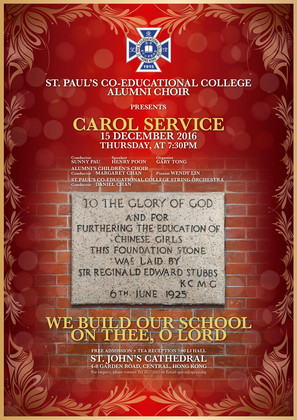 Dear SPCC alumni,
Christmas is just around the corner! The Alumni Choir is going to present the well-loved annual Carol Service. We would like to invite you and your family to join us for this favorite event at St. John's Cathedral on 15 December 2016 (Thursday).
The theme "We Build Our School on Thee, O Lord", which comes from the first line of our School Hymn, reminds us that the School was founded to the glory of God. We are honored to have our Ex-School Principal, Mr. Henry Poon, to give a sharing session during the Service. The SPCC Alumni Choir (led by Mr. Sunny Pau), SPCC Alumni's Children's Choir (led by Ms. Margaret Chan) and SPCC String Orchestra (led by Mr. Daniel Chan) are going to present familiar hymns and carols. We sincerely hope that you could join us at this wonderful and festive evening.
Details are as below:
Date: 15 December 2016 (Thursday)
Time: 7 pm - Tea Reception, Li Hall
7:30pm - Service, Cathedral
Venue: St. John's Cathedral, 4-8 Garden Road, Central, Hong Kong
(Free Admission)
If you have any queries, please feel free to contact Ms. Carroll Yeung of the Alumni Association Office at +852 28772885 or by email at spccaa@spccaa.org.
We look forward to celebrating Christmas with you!
Yours sincerely,
Renee So
Chairlady
St. Paul's Co-educational College Alumni Choir
BACK