Main content start
Simply Mozart - Celebrating the Master's 260th Birthday - November 2016
Alumni Choir Activities
Simply Mozart - Celebrating the Master's 260th Birthday - November 2016
Hong Kong Jockey Club Amphitheatre, The Hong Kong Academy for Performing Arts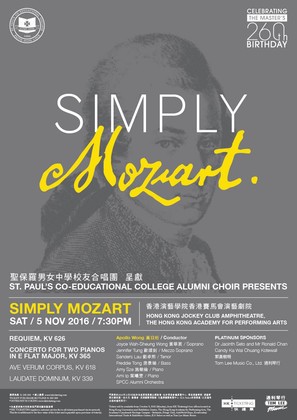 Enjoy an evening of Mozart music with the SPCC Alumni Choir. The concert features a selection of the maestro's masterpieces in celebration of his 260th birth anniversary.

Led by conductor Apollo Wong and accompanied by the (SPCC) Alumni Orchestra, the (SPCC) Alumni Choir will take the stage for Requiem, KV 626 with solo performances by soprano Joyce Wong, mezzo-soprano Jennifer Tung, tenor Sanders Lau and bass Freddie Tong. Pianists Amy Sze and Ami Ip will be performing Concerto for Two Pianos in E Flat Major, KV 365. Also on the program are the famous and beloved sacred works Ave Verum Corpus, KV 618 and Laudate Dominum, KV 339.

260 years after Mozart's birth, let's resonate with his music and pay tribute to one of the greatest composers of all time!
BACK